AANPA
Nephrology PAs are found in all aspects of Nephrology practices: from dialysis rounds to hospital coverage to office patients. They are responsible for research studies, education of staff, new practitioners and patients through the Medicare Authorized 'Kidney Disease Education' classes. They manage inter-disciplinary teams at the dialysis units. AANPA, consisting of fellow and student members, is the AAPA authorized specialty constituent group with ties to all major national Nephrology groups.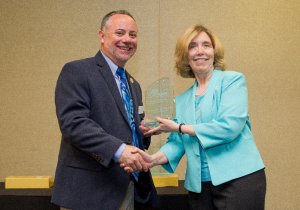 AANPA won the AAPA 2015 award for the best outreach by a constituent organization! Shown are Donna Anderson accepting the plaque and Kim Zuber discussing the award.

Kidneys in a Box

Developed to satisfy the NCCPA PI-CME requirement, 'Kidneys in a Box' is for the family practice, internal medicine, urgent care PA who sees some diabetic patients.

GET MORE INFO HERE
Fun With Kidneys

Developed for the PA who is NOT in nephrology, does not think they need nephrology, and is the reason we, nephrology, stay in business. Even if you do not think you are seeing kidney patients, you are! Just the normal aging of the kidney means that any patient over the age of 30, has some kidney dysfunction.

GET MORE INFO HERE